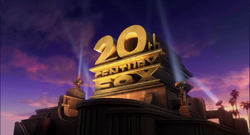 20th Century Fox Film Corporation (or simply 20th Century Fox) is a motion picture production company founded in 1935 out of the merger of Fox Film Corporation (founded in 1915) and 20th Century Pictures, Inc. (founded in 1932).
Popular franchises under the Fox umbrella include, but are not limited to, Home Alone, Die Hard, Ice Age, Avatar, X-Men, Fantastic Four, and Rio.
Fox was the distributor of the first six Star Wars movies, though they only owned the first film, until The Walt Disney Company bought Lucasfilm Ltd. on October 30, 2012.[1]
The studio was involved in the development of The Peanuts Movie. It also owns the Fox television network. Its defunct Playhouse Video division also released the previous theatrical features A Boy Named Charlie Brown and Snoopy Come Home on VHS for a period in the 1980s.
On December 14, 2017, the Walt Disney Company announced that it is acquiring most of Fox's parent company, 21st Century Fox, including the film studio,[2] which was approved by both companies on July 27, 2018.[3]
Filmography
References
↑ Disney to Acquire Lucasfilm Ltd., The Walt Disney Company, October 30, 2012
↑ The Walt Disney Company to acquire Twenty-First Century Fox Inc., after spin-off of certain businesses, for $52.4 billion in stock, The Walt Disney Company, December 14, 2017
↑ Fox and Disney Shareholders Vote to Approve $71.3 Billion Merger, The Wrap, July 27, 2018
External links