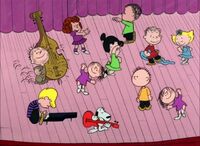 3 and 4 are minor female characters and 5's younger twin sisters in the Peanuts comic strip by Charles M. Schulz.
History
The two were first referred to in the comic strip from October 1, 1963, the day after the first appearance of 5. The new boy at school tells Charlie Brown that the names of all the members of his family are numbers. Charlie Brown comments that 3 and 4 are "nice feminine names." A little over two weeks later, on October 17, 1963, the twins first appeared in the strip, introducing themselves to Lucy van Pelt.
Both 3 and 4 made only a very limited number of appearances in the Peanuts comic strip. They appeared in 1963–1964 and last appeared on October 20, 1968.

3 and 4 appear briefly but memorably in A Charlie Brown Christmas. The twin girls, both wearing purple dresses, do not speak in the animated television special but they perform a distinctive and lively dance to the tune "Linus and Lucy" played on Schroeder's piano. They also appear in You're in Love, Charlie Brown, where they are seen making sandcastles during recess before "Pig-Pen" walks by the sandbox and carries all the sand away with him. They also make a short cameo appearance along with 5, Frieda, and Faron in Happiness is a Warm Blanket, Charlie Brown.
Appearance
In their TV appearances, 3 and 4 have straight black hair and wear purple dresses with white shoes. In recent reprints of the strip, their hair is colored yellow and their dresses are colored pink.
In TV and film
3 and 4 are not frequently seen in television and film, but they have been seen in cameo and silent roles in a few television specials.
Appearances
Community content is available under
CC-BY-SA
unless otherwise noted.