A Charlie Brown Thanksgiving is an Emmy award-winning animated television special based on the Peanuts comic strip by Charles M. Schulz, directed by Phil Roman and Bill Melendez. It originally aired on CBS on November 20, 1973. It continued to air annually in the United States on a date near to the Thanksgiving holiday for over four decades until 2000. It aired on ABC from 2001 to 2019. The broadcast rights to it were obtained by Apple TV+ in 2020. A deal with PBS also allowed that company to air the special in 2020.
Plot
Charlie and Sally Brown are planning to go to their Grandmother's for Thanksgiving dinner, when Peppermint Patty calls Charlie Brown, and invites herself to have Thanksgiving dinner at his house. Shortly thereafter, she calls two more times, saying that Marcie and Franklin will also be attending. Charlie Brown tries to explain that this is not possible, but Peppermint Patty keeps prattling on with little regard to Charlie's words.
When Linus comes over, Charlie Brown explains his predicament. Linus then proposes a solution: have two dinners. One can be in the afternoon with the other kids, and then Charlie Brown can still go to his Grandmother's as planned. Charlie Brown is not convinced of this idea, as his culinary expertise is limited to preparing cold cereal and maybe toast. Linus, Snoopy, and Woodstock offer to help Charlie Brown prepare for the dinner.
Linus recruits Snoopy and Woodstock to help set up the guest area, as well as prepare the meal. Sometime later, Peppermint Patty, Marcie and Franklin arrive. After everyone has a seat, Linus says grace and gives a speech in regards to what Thanksgiving is about.
Once grace is finished, Snoopy serves the food that has been prepared: buttered toast, jellybeans, pretzel sticks, and popcorn. Upon seeing the food available, Peppermint Patty grumpily shouts at Charlie Brown regarding its poor quality, saying that they should have been served a real Thanksgiving dinner. Embarrassed at the situation, Charlie leaves the table.
Once he has gone, Marcie asks her friend if she was being too rough on Charlie Brown. Peppermint Patty vehemently says that they should have been served a real Thanksgiving Dinner. Knowing her friend's personality well, Marcie asks if Charlie Brown had intended to invite them over, or if Peppermint Patty invited herself, and somewhat forced her and Franklin to come along. Upon realizing what a jerk she has been, Peppermint Patty asks Marcie to talk to Charlie Brown and tell him that she is sorry for the harsh words and what she has done.
Marcie discusses things with Charlie Brown, who still feels that he has ruined the day for everyone. However, Marcie explains that Thanksgiving is about what Linus said in his speech: it's about being together and being thankful like the Pilgrims were. As they finish talking, Peppermint Patty appears and apologizes in person for her attitude.
As he looks at the clock, Charlie Brown realizes that he is late for dinner with his grandmother. He quickly dials her up, and explains what happened. When his Grandmother finds out that his friends have not eaten dinner yet, she insists they all come to eat at her place.
Shortly thereafter, the kids start on their trip to Charlie Brown's grandmother's condominium, leaving Snoopy and Woodstock alone at home. As soon as they leave, the two friends set up a table outside the doghouse, where Snoopy serves up a traditional Thanksgiving dinner for the two of them.
Notes
The special was initially sponsored by Dolly Madison Cakes and Coca-Cola.
Many viewers sent complaints to CBS about Woodstock eating a turkey with Snoopy, seeing it as an act of "bird cannibalism"! Charles Schulz insisted that Woodstock join Snoopy in carving and eating a turkey, despite Lee Mendelson's protests.
Marcie calls Peppermint Patty "Priscilla" because Linus made a reference to Miles Standish, Priscilla and Miles Standish are characters in The Courtship of Miles Standish.
This special received that year's Emmy Award for Outstanding Individual Achievement in Children's Programming (which went to Charles M. Schulz). It was also nominated for Outstanding Children's Special, but did not win. There's No Time for Love, Charlie Brown, which was broadcast in the same year, did not receive any nominations.
Sally states that she "didn't finish all of her Halloween candy," this can be considered a continuity error because in the earlier special It's the Great Pumpkin, Charlie Brown, Sally does not go trick-or-treating but remains in the pumpkin patch with Linus instead, It is unknown if she got any candy from them after she storms outs from the pumpkin patch.
On VHS releases of this special, the clock chime is louder.
This is the first special where Charlie Brown is voiced by Todd Barbee.
This is the last special where Sally Brown is voiced by Hilary Momberger, Peppermint Patty is voiced by Christopher DeFaria, and Lucy van Pelt is voiced by Robin Kohn.
Oddly enough, despite the background music sounding very Beethoven-themed, Schroeder is not seen, heard or mentioned in this special.
Lucy van Pelt only appears in the special's teaser, in which she, once again, suckers Charlie Brown into the old "I'll-hold-the-ball-and-you-come-running-up-and-kick-it" gag.
This special's airings in 2006 and 2007 were paired with He's a Bully, Charlie Brown.
Soundtrack
"Play It Again, Charlie Brown" (aka "Charlie Brown Blues" and "Charlie's Blues") E
"Thanksgiving Theme" (slow version)
"Thanksgiving Theme"*
"Peppermint Patty" (slow flute version)*, P
"Little Birdie" (Guaraldi vocal) M
"Thanksgiving Interlude"*
"Is It James or Charlie?" N
"Linus and Lucy" (full brass section version) T
"Fife & Drums Theme"*
"Is It James or Charlie?" (two separate cues) N
"Charlie Brown Blues" (slow variation) (aka "Play It Again, Charlie Brown" and "Charlie's Blues")*, P
"Thanksgiving Interlude"
"Over the River and Through the Woods" (a cappella, vocal by Charlie Brown, Sally Brown, Linus van Pelt, Marcie, Peppermint Patty, and Franklin)
"Thanksgiving Theme" M
"Thanksgiving Theme"
Goofs
It takes Peppermint Patty about six seconds to realize that the food being served is not a traditional Thanksgiving dinner, even though she is looking right at it for the entirety of that time.
At the table, the chairs keep moving in different shots, Franklin is shown sitting with other chairs and without.
When Snoopy tosses the plates, he only throws seven, but the next shot shows every spot with a plate. On a side note, when Woodstock hides under a napkin and Snoopy picks it up, it disappears in the next shot with Linus.
When Snoopy plays ping-pong on the table, the back of the paddle is not a different color, like normal ping-pong paddles are. The front of the paddle is red, while the back does not have any color.
Voice cast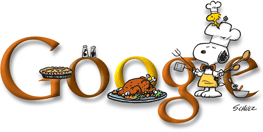 Uncredited
Gallery
External links
Peanuts Animated Features
TV Specials
A Charlie Brown Christmas • Charlie Brown's All-Stars • It's the Great Pumpkin, Charlie Brown • You're in Love, Charlie Brown • He's Your Dog, Charlie Brown • It Was a Short Summer, Charlie Brown • Play It Again, Charlie Brown • You're Not Elected, Charlie Brown • There's No Time for Love, Charlie Brown • A Charlie Brown Thanksgiving • It's a Mystery, Charlie Brown • It's the Easter Beagle, Charlie Brown • Be My Valentine, Charlie Brown • You're a Good Sport, Charlie Brown • It's Arbor Day, Charlie Brown • It's Your First Kiss, Charlie Brown • What a Nightmare, Charlie Brown • You're the Greatest, Charlie Brown • She's a Good Skate, Charlie Brown • Life Is a Circus, Charlie Brown • It's Magic, Charlie Brown • Someday You'll Find Her, Charlie Brown • A Charlie Brown Celebration • Is This Goodbye, Charlie Brown? • It's an Adventure, Charlie Brown • What Have We Learned, Charlie Brown? • It's Flashbeagle, Charlie Brown • Snoopy's Getting Married, Charlie Brown • You're a Good Man, Charlie Brown • Happy New Year, Charlie Brown! • Snoopy!!! The Musical • It's the Girl in the Red Truck, Charlie Brown • Why, Charlie Brown, Why? • Snoopy's Reunion • It's Spring Training, Charlie Brown • It's Christmastime Again, Charlie Brown • You're in the Super Bowl, Charlie Brown • It Was My Best Birthday Ever, Charlie Brown • It's the Pied Piper, Charlie Brown • A Charlie Brown Valentine • Charlie Brown's Christmas Tales • Lucy Must Be Traded, Charlie Brown • I Want a Dog for Christmas, Charlie Brown • He's a Bully, Charlie Brown • Happiness Is a Warm Blanket, Charlie Brown
Movies
A Boy Named Charlie Brown • Snoopy, Come Home • Race for Your Life, Charlie Brown • Bon Voyage, Charlie Brown (And Don't Come Back!!) • The Peanuts Movie
The Charlie Brown and Snoopy Show
"Snoopy's Cat Fight" • "Snoopy: Team Manager" • "Linus and Lucy" • "Lucy vs. the World" • "Linus' Security Blanket" • "Snoopy: Man's Best Friend" • "Snoopy the Psychiatrist" • "You Can't Win, Charlie Brown" • "The Lost Ballpark" • "Snoopy's Football Career" • "Chaos in the Classroom" • "It's That Team Spirit, Charlie Brown" • "Lucy Loves Schroeder" • "Snoopy and the Giant" • "Snoopy's Brother Spike" • "Snoopy's Robot" • "Peppermint Patty's School Days" • "Sally's Sweet Babboo"
This Is America, Charlie Brown
"The Mayflower Voyagers" • "The Birth of the Constitution" • "The Wright Brothers at Kitty Hawk" • "The NASA Space Station" • "The Building of the Transcontinental Railroad" • "The Great Inventors" • "The Smithsonian and the Presidency" • "The Music and Heroes of America"
Snoopy in Space
"The Application" • "Training" • "The Graduation" • "Welcome to the ISS" • "I Never Promised You a Space Garden" • "Space Sleepwalking" • "The Journey on Orion" • "Crater Crash" • "Searching for Moon Rocks" • "You're a Good Moon, Charlie Brown" • "The Next Mission" • "Mars or Bust"
Others
Peanuts (2014 TV series) • Peanuts Motion Comics