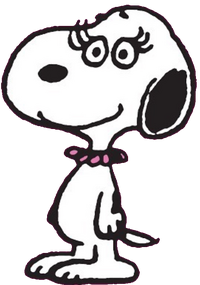 Belle is a minor animal character in the comic strip Peanuts by Charles M. Schulz. She is Snoopy's sister. She first appeared in Peanuts on June 28, 1976, although she was referred to for the first time a few days earlier on June 22, 1976.
History
In the June 1976 story, Snoopy leaves for Wimbledon to play in the famous tennis tournament there. Although Charlie Brown had told him that Wimbledon was in England, Snoopy appeared to cling to the belief that Wimbledon was near Kansas City. When Snoopy eventually finds himself approaching Kansas City he decides to visit his sister, Belle, who lives there. Belle has a tall thin unnamed son. Her son is supposed to be a pure-bred beagle, although Snoopy thinks he looks more like the Pink Panther.
Belle only made a few appearances in the Peanuts comic strip. However, she is well remembered because of her use in Peanuts related merchandise, including Belle stuffed toy animals which were produced in the 1970s and 1980s. Due to her few appearances many people who were not regular readers of the comic strip mistakenly thought that she was Snoopy's girlfriend, rather than his sister.
The Peanuts animated television special, Snoopy's Reunion, which first aired on CBS on May 1, 1991, features Belle and the rest of Snoopy's siblings, including Molly and Rover, two characters who had not appeared or been named in the comic strip.
Unlike her brothers, Snoopy and Spike, when Belle imagines herself in World War I, she appears as a nurse, and not as a soldier.
The lyrics to the theme tune of The Charlie Brown and Snoopy Show referred to Belle, and she appeared in the opening title sequence to the show, alongside Snoopy and Spike. However, she never appeared in the show itself.