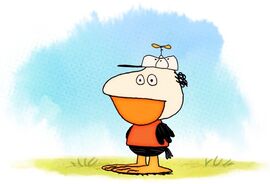 "Bird Job"
is a short animated cartoon from the 2014 French TV series
Peanuts
, produced by Normaal animation and based on the comic strip
Peanuts
by
Charles M. Schulz
. It is the forty-ninth produced short.
Plot
Peppermint Patty convinces Charlie Brown to join her baseball team...as the mascot, then, she wonders if it would be possible to drop him from a helicopter on the opening day.
Goof
In the original airings of the series in 2014, the animation team made a big mistake in introducing modern technology in the Peanuts world. They gave the Peanuts characters cell phones. This mistake was fixed in 2016 by replacing those phones with the old rotatory phones that have always used in the comic strips.
Basis
The short adapts a series of strips that originally ran from March 16, 1983 onwards. The same series of strips had previously been adapted as the segment "The Pelicans" in the episode "Snoopy's Brother Spike" from the 1985 series of The Charlie Brown and Snoopy Show.
Short