Charles M. Schulz is definitely most famous for his work on Peanuts but he also had other professional work before and outside of that strip.
Early work
Schulz was first published as a teenager with a drawing of his pet dog Spike for Ripley's Believe It or Not! He followed this with two editions of the gag strip Just Keep Laughing for Topix Comics in 1947 and a series of 17 cartoons for The Saturday Evening Post from 1948 to 1950. Schulz also mentioned having drawn a four-page war story for a comic book, but that publication has not been identified.
List of The Saturday Evening Post cartoons
May 29, 1948 (page 116)
July 17, 1948 (page 42)
September 25, 1948 (page 152)
November 6, 1948 (page 91)
November 13, 1948 (page 179)
January 1, 1949 (page 60)
February 19, 1949 (page 119)
May 21, 1949 (pages 72 & 166)
July 16, 1949 (page 114)
November 19, 1949 (page 132)
February 11, 1950 (page 45)
February 18, 1950 (page 129)
April 29, 1950 (pages 87 & 140)
May 6, 1950 (page 79)
July 8, 1950 (page 54)
Li'l Folks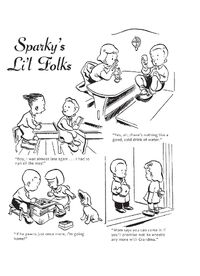 Li'l Folks was a comic strip created by Charles M. Schulz, presenting a collection of three or four single-panel cartoons in each installment, that started on June 8, 1947, and ended on January 22, 1950. The strip is considered to be an embryonic version of Peanuts; indeed, numerous gags from its run were re-used in the early years of Peanuts itself. It featured a Charlie Brown, Patricia Smith, Rover the dog who resembled Snoopy, a well-dressed young man with a fondness for Beethoven, and several unnamed characters who resembled Peanuts characters.
Schulz quit two years into the strip after the newspaper editor turned down his requests: both a pay increase and to bring Li'l Folks from the women's section to the comics pages.
The comics were collected in the 2003 book Charles M. Schulz: Li'l Beginnings by the Charles M. Schulz Museum. The complete Li'l Folks strips are also included in Volume 25 of The Complete Peanuts.
A few strips from January 1950 show some of the elements that Schulz would incorporate into Peanuts in just nine months...
Young Pillars
Young Pillars is the name of a series of Christian-themed single-panel gag comics that Charles M. Schulz produced in the 1950s and 1960s. Some of this content had been reprinted in many compilations, including the 1989 book I Take My Religion Seriously published by Warner Press.
Schulz's Youth
Schulz's Youth is a compilation of the strips published in 2007 by Nat Gertler's About Comics. Most of the book is devoted to cartoons about teenagers, the majority of which were serialized as Young Pillars in the Church of God magazine Youth from 1956 to 1965, with some appearing in Reach in 1969. The book also includes cartoons about young children from the book Two-by-Fours published in 1965. About also published the smaller compilations God's Children and The Zipper on My Bible Is Stuck with some color accents in 2012.
It's Only a Game
It's Only a Game is a sports-related comic strip that Charles M. Schulz and Jim Sasseville created from 1957 through 1959 which ran on Sundays. Due to Schulz's commitments to Peanuts, he decided to cancel the strip after 63 weeks. Each strip was made up of three individual panels which were self-contained. The third panel was of the card game bridge and could be run separate from the two sports panels, so the syndicate gave papers the option of running individual panels Monday, Wednesday, and Friday and omitting the running header above the three. The comics were reprinted in the 2004 book It's Only a Game and the 2013 compilation It's Only a Game: The Complete Color Collection. The 2012 collection Bridge Mix features the bridge panels and 2013's Spares focuses on bowling. Finally, About Comics published Great Golf Gags by Classic Cartoonists in 2017 featuring Schulz with other mid-20th-century cartoonists.
Family book illustrations
External links