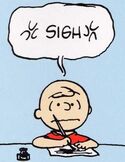 Charlie Brown
started writing letters to his
pen-pal
on
August 25, 1958
.

Charlie Brown uses the term "pencil-pal" because he does not write well in pen. Normally, their communication is a one way, but his pen-pal is known to write back once in a while. When asked by
Lucy
about what they write about, he says, "He tells me about his country, and I tell him about ours...", to which Lucy responds, "You sound like a couple of spies to me." Charlie Brown's comment to Lucy indicates that he is writing to someone who does not live in the USA although which country his pen-pal was from was not revealed until
September 27, 1994
.
In one strip, Charlie Brown writes in one of his letters that his "pencil-pal" is his only friend, with the postscript "Everyone hates me".
In a series of strips from September and October 1994, the pen-pal is revealed to be a girl from Scotland named Morag. Charlie Brown fantasizes about a future romance with Morag, but his plans are crushed when he learns Morag has thirty other pen-pals.