"Crazy Mutt" (originally called "Quel cabot") is episode 7a of the 2014 French animated TV series Peanuts produced by Normaal animation and based on the comic strip Peanuts by Charles M. Schulz. It first aired on Boomerang in the United States on May 27, 2016. The main theme of the episode is everything related to Snoopy´s lively personality.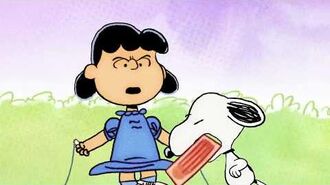 Plot
Linus teaches Snoopy how to play catch. Charlie Brown helps Snoopy practice his diving skills. Snoopy and Lucy brawl. Charlie Brown wants Snoopy to fetch the paper. Snoopy wants dinner before Charlie Brown serves it, so he makes it himself.
Community content is available under
CC-BY-SA
unless otherwise noted.