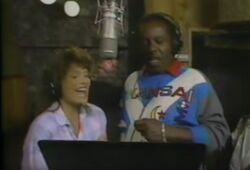 Desirée Goyette (born September 10, 1956) is an American singer, lyricist, composer, musician and voice actor. She is married to composer Ed Bogas.
Goyette contributed music to several Peanuts projects. She co-wrote the song "Joe Cool" with Vince Guaraldi. She sang the title song for the special It's Flashbeagle, Charlie Brown and the song "Slow, Slow, Quick, Quick" in Happy New Year, Charlie Brown!. Goyette also composed music for The Charlie Brown and Snoopy Show and the documentary It's Your 20th Television Anniversary, Charlie Brown. Goyette also produced the documentary and appears in it. Goyette produced the TV special You're a Good Man, Charlie Brown. She was the musical director for the TV specials You're a Good Man, Charlie Brown and Snoopy!!! The Musical. She appears in archive footage in the documentary It's Your 50th Christmas, Charlie Brown.
Goyette is more closely associated with her work on the various Garfield animated projects (many produced by Phil Roman) for which she often worked with Lou Rawls and voiced the cute kitten Nermal.
External links
Community content is available under
CC-BY-SA
unless otherwise noted.