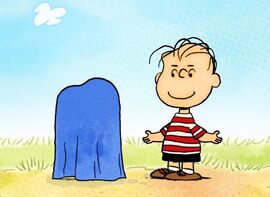 "Dog Day"
is a short animated cartoon from the 2014 French-Italian TV series
Peanuts
, produced by Normaal animation and based on the comic strip
Peanuts
by
Charles M. Schulz
. It is the fifty-sixth produced short.
Plot
Snoopy steals Linus' security blanket and hides under it. But he gets caught in his own trap.
Release
When this short was first released on Cartoon Network's website, it was oddly edited. Instead of a different sequence following, when Linus first gets the blanket back from Snoopy, he takes the blanket, walks away, and says "Stupid dog." and begins sucking his thumb, followed by the regular ending of the shorts panning out of the comic panel and Schulz signing it.
The short was released in its full version later on Cartoon Network's YouTube channel, albeit with the opening and credits cut out, and was later featured in the episode "My Blanket!"
Short
Community content is available under
CC-BY-SA
unless otherwise noted.