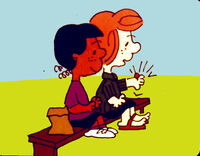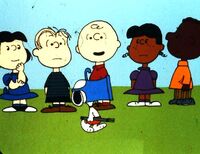 Dolores is a female character who was created in 1979 for a series of filmstrips[1] designed for use in elementary schools. The fimstrips were produced by a company called Charlie Brown's Career Education Venture under contract to the U.S. Department of Health, Education and Welfare. For nearly four decades, those educational filmstrips were the only Peanuts-related media in which Dolores ever appeared. She has never appeared in the Peanuts comic strip or in any of the TV specials, TV series, feature-length animated films or stage musicals based on it.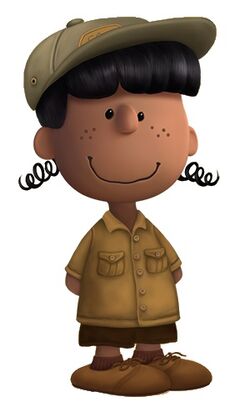 Dolores is of Latin American origin and speaks some Spanish. Her skin is darker than that of most of the other Peanuts characters.[2] She has freckles on her cheeks. She has short black hair with two long and prominent curls on the back of her head. In the audio for the filmstrips, she is voiced by Leticia Ortiz.
The character was undoubtedly created in order to bring more diversity into the world of Peanuts and to provide somebody with whom Latino students could identify. It is possible that the makers of the filmstrips were contractually obligated to create such a character.
In August 2018, nearly forty years after the creation of the character, Dolores was finally featured in another media beside the filmstrips when she was added as a new character in the mobile game Snoopy's Town Tale.
See also
Footnotes
↑ A filmstrip is a kind of multimedia. It is made up of a series of roughly thirty to fifty still images on 35 mm film. While the images are projected onto a screen, an accompanying soundtrack, which may be on a vinyl record or a cassette tape is played. Filstrips typically have a running time of ten to twenty minutes. Filmstrips were introduced in the 1940s and remained in common use in schools until the 1980s, when increasingly cheap videotapes made them obsolete.
↑

The first two images on this page are taken from filmstrips that may have deteriorated due to being improperly stored for nearly three decades. They may, therefore, not accurately show Dolores' skin color as the makers of the filmstrip originally intended it to look.
External links