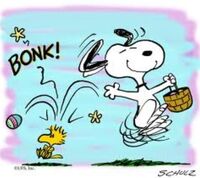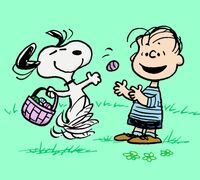 The Easter Beagle is one of Snoopy's many alter egos. He is a holiday character that appears every year bringing easter eggs to the Peanuts characters' neighborhood. Snoopy first appeared as an Easter Bunny-like character on April 14, 1968 but Schulz did not give the character the name "the Easter Beagle" until three years later. The TV special It's the Easter Beagle, Charlie Brown is based around the character.
History
Snoopy first imitates the Easter Bunny in the strip from Easter of 1968. The dog dances around with a basket full of eggs in Linus and Lucy's back yard.
In strips over the years, Linus usually warns everybody about the Easter Beagle's arrival, saying something like, "The Easter Beagle is coming!" The Easter Beagle is one of Linus' peculiar beliefs, like the Great Pumpkin.
In the TV special It's the Easter Beagle, Charlie Brown, Linus tríes to convince everybody that the Easter Beagle will come, much as he tries to convince everyone that a Halloween gift-giver is coming in It's the Great Pumpkin, Charlie Brown. Towards the end of the special, the Easter Beagle comes dancing along with his basket full of eggs, giving a colored egg to each of the children. However, when he comes to Charlie Brown, there are no eggs left for him.
On Easter of 1973 it was revealed that the Easter Beagle had an assistant, Woodstock.
Each year people have to give credit to the Easter Beagle for his impressive entrance because each year he tries to come up with a better one. In 1977 the Easter Beagle came out of a giant egg delivering eggs.
The last Easter Beagle strip appeared on April 7, 1985. In that strip, he gives Sally his basket to wear as a hat because he has nothing else to give her.
Appearances
Trivia
Every year, there is an "Easter Beagle" egg hunt at the Knott's Berry Farm theme park in Buena Park, California
Charles M. Schulz once said in an interview that the Easter Beagle was his favorite out of all of Snoopy's alter egos.