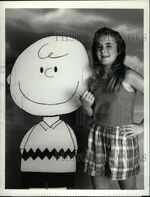 Erin Chase is an American former child actress. She voiced Charlie Brown in This Is America, Charlie Brown.
Chase began her career when she was 6 months old, modeling in an advertisement for Buffums department store.
She also played Martha Miller in the TV series Aaron's Way and was in Edith Ann: Homeless Goes Home.
External links