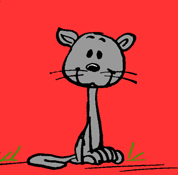 Faron is a minor animal character in the Peanuts comic strip by Charles M. Schulz who first appeared on May 23, 1961. He serves as an antagonist for Snoopy.
History

Frieda originally served as an antagonist for Snoopy, as she believed Snoopy's purpose in life was to be a rabbit-chaser. His unwillingness to do as she wished prompted revenge from the girl: she would get a cat in order to lower Snoopy's plateau in the neighborhood, as she thought he had it too easy.
In a nerve-wracking, week-long sequence, Snoopy worries about the competition the cat is going to cause, not to mention the actual presence of a cat, which he deplores. Finally, Frieda produces Faron, a friendly skin-and-boneless kitten which surprises Snoopy ("This is a CAT??", he wonders in amazement). Faron is also lazy and likes to hang on Frieda's arm, so that he does not get his paws dirty. Faron only speaks once, saying "Meow", which sends Snoopy jumping into the air in fright.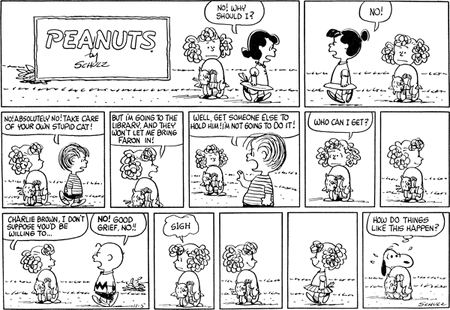 For all the build-up, Faron only plays a walk-on role in the history of Peanuts, as he never did measure up to Snoopy's caliber. He made very few appearances in the strip,as Frieda herself began to be phased out of it at around the same time as Faron's introduction. Faron appeared in the daily comic strip for four consecutive days from May 23 to May 27, 1961. The cat reappeared in the strips from June 5 and June 6, 1961, which sees Frieda get Charlie Brown and Linus to hold Faron while she goes to run errands. A Sunday comic strip from November 5, 1961 features a running gag in which Frieda is once again going out to run errands and tries to find someone to hold her cat while she does. Poor Snoopy ends up holding the kitty.
Snoopy's fears of cats would eventually be realized, but only in the form of World War II, the next-door neighbors' cat.
Schulz later said he dropped Faron because he not only felt that he could not draw a cat well enough, but Faron caused Snoopy to act too much like a "real" dog. Faron last appeared on November 20, 1961. Frieda would make occasional appearances in later Peanuts strip but would not be seen with Faron again.
Faron makes a cameo appearance in the TV special Happiness Is a Warm Blanket, Charlie Brown.
In a 1989 interview, Schulz revealed that both Frieda and Faron were named after popular country singers.