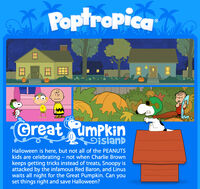 Great Pumpkin Island is a Peanuts-themed island on the popular, child-friendly website Poptropica. It was launched on September 30, 2010 for members and was released to the public on October 14, 2010. It is based on the TV special, It's the Great Pumpkin, Charlie Brown, and was released in October thematically.
Players play as their own Poptropicans, but get to interact with many Peanuts characters, including Charlie Brown, Linus van Pelt, Lucy van Pelt, Violet, Schroeder, Sally Brown, "Pig-Pen" and Snoopy. Patty and Shermy are also seen, but not available to interact with. Players' missions on Great Pumpkin Island are to help Linus wait for the Great Pumpkin, arrive at Violet's Halloween party on time, help Snoopy defeat his arch enemy the Red Baron, and get through a field without being spotted by lights.
Gallery
Trivia
The Red Baron is seen in this game, and looks a lot like Woodstock. However, this game certaintly cannot be considered canonical.
While in 2015 the island was made 'members only' indefinitely along with many other sponsored islands, it was temporarily made free to all after the The Peanuts Movie was released to theaters.
External links
Community content is available under
CC-BY-SA
unless otherwise noted.