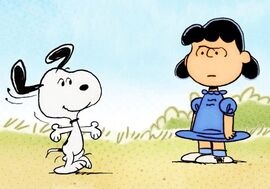 "Happy Dance"
is a short animated cartoon from the 2014 French TV series
Peanuts
, produced by Normaal animation and based on the comic strip
Peanuts
by
Charles M. Schulz
.
Plot
No one can stop Snoopy from doing his happy dance.
Basis
The short adapts the strips from September 18, 22 and 23, 1965.
Short