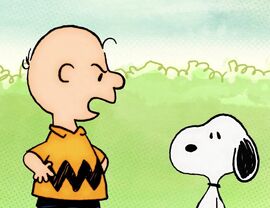 "Independance day"
(sic;
independance
being the French word for "independence") is a short animated cartoon from the 2014 French TV series
Peanuts
, produced by Normaal animation and based on the comic strip
Peanuts
by
Charles M. Schulz
. It first aired on France 3 on November 9, 2014.
Plot
Charlie Brown reminds Snoopy that he is the one who feeds him and takes care of him. He even, bought Snoopy the collar he wears around his neck.
Basis
The short is adapted from a Sunday strip from February 1971.