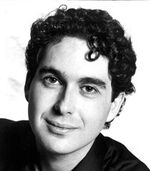 Jeremy Schoenberg (born on May 8, 1972 in Los Angeles, California) is a former child actor who is known for his role as Johnny on the NBC soap opera series, Days of Our Lives from 1981 to 1982. During Schoenberg's time on Days of Our Lives, he was nominated for a Young Artist Award for "Best Young Actor: Daytime Series."
Schoenberg also provided the voice of Linus van Pelt in the first season of The Charlie Brown and Snoopy Show, for which he was nominated for another Young Artist Award for "Outstanding Young Actor: Animated Voice-Over", and was featured in four Peanuts television specials: Is This Goodbye, Charlie Brown?, What Have We Learned, Charlie Brown?, It's Flashbeagle, Charlie Brown, and Snoopy's Getting Married, Charlie Brown.
Jeremy Shoenberg guest-starred on television shows including Angie, Family Ties, Mr. Smith, and Valerie's Family. He did voice-over work for the 1985 television movie, Happily Ever After and appeared in the 1982 film, Shoot the Moon. Schoenberg is now a professional opera singer.
External links