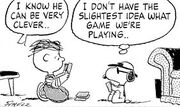 Joe Blackjack, The World Famous Riverboat Gambler, is one of Snoopy's alter-egos which appears several times in Peanuts comic strips which were first published between 1995 and 1997. The first appearance of the alter-ego is in the strip from August 30, 1995.
Usually wearing his trademark gambler's visor and sunglasses, Joe Blackjack is shown playing cards against Lucy and Rerun van Pelt on several occasions.  While Lucy and Rerun express awe and fear towards Joe Blackjack, his thoughts reveal total confusion on his part. However, he does occasionally win, such as in the series of strips starting on June 11, 1996, where he soundly defeats Lucy and Rerun in a match.
An earlier variation on this character, Blackjack Snoopy, the World Famous River Boat Gambler, first appeared in the strip from May 30, 1979. In his first appearance, he wears a top hat and has two mustaches. In the strip from the following day, as he sits at a blackjack table, he is wearing a gambler's visor and sunglasses and has only one mustache.
Community content is available under
CC-BY-SA
unless otherwise noted.