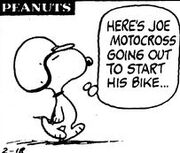 Joe Motocross is one of Snoopy's alter-egos introduced to Peanuts comic strips on February 18, 1975.
With this alter-ego, Snoopy fantasizes that he is a competitive motocross bike racer.  Wearing a helmet and, sometimes, motorcycle leathers, Snoopy is shown sitting on top of his doghouse and making motocross bike noises. 
Charlie Brown appears to also believe in this fantasy alter-ego.  In a strip published on February 21, 1975, he is shown telling Linus van Pelt that Snoopy suffered through a number of mechanical problems and physical injuries during a race.  In a strip published on May 10, 1975, he is shown asking Snoopy, whose leg is caught in a section of fencing, if he missed a turn.
Community content is available under
CC-BY-SA
unless otherwise noted.