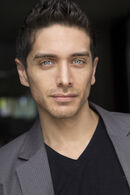 Josh Keaton (born Joshua Luis Wiener on February 8, 1979 in Pasadena, California) is an actor and singer who provided the voice of Linus van Pelt in Snoopy's Reunion.
His other work includes working in various television shows, films and video games. He was also a member of boy band No Authority.
His sisters, Alitzah, Danielle and Sabrina are actresses as well.
External links