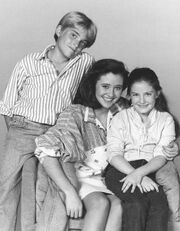 Keri Houlihan (born July 3, 1975 in Philadelphia, Pennsylvania) is a former child actress who provided the voice of Marcie in the 1985 season of The Charlie Brown and Snoopy Show," in This is America, Charlie Brown in the episode, "The Birth of the Constitution," and in two Peanuts television specials: It's Flashbeagle, Charlie Brown and Snoopy's Getting Married, Charlie Brown.
Houlihan is known for her role as Molly Witherspoon in the NBC series, Our House starring Wilford Brimley, Deidre Hall, Shannen Doherty and Chad Allen. She starred as J.J. Rutherford in The New Leave it To Beaver from 1984 to 1987.
Keri Houlihan was the voice of Molly in the My Little Pony cartoon series and 1986 movie. She guest-starred on television shows including Who's The Boss?, Night Court, I Had Three Wives, V, Gimme a Break, The Jeffersons, Webster, Simon & Simon and Quincy, M.E.
She also appeared in the movie, Testament and in the television movies Little Shots, Love Lives On, Sam, Murder: By Reason of Insanity and Second Serve. Houlihan provided the voice of Susie in the ABC Network weekend special The Mouse and the Motorcycle and in the television movie Happily Ever After.
External links