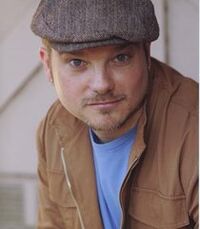 Kevin Brando (born June 5, 1970) is a former American child actor known for providing the voice of Schroeder on The Charlie Brown and Snoopy Show during the 1983 season and in five Peanuts television specials: Is This Goodbye, Charlie Brown? It's an Adventure, Charlie Brown, It's Flashbeagle, Charlie Brown, and You're a Good Man, Charlie Brown. He also provided the singing voice of Charlie Brown in the animated version of the musical, You're a Good Man, Charlie Brown and the musical special, It's Flashbeagle, Charlie Brown.
Additionally, Brando can still be heard as the voice of Pinocchio on the Pinocchio's Daring Journey ride in the Fantasyland at Disneyland.
Brando guest-starred on many television shows including Quincy, M.E., T.J. Hooker, Flo, Fernwood Tonight, and Newhart. He also appeared in several movies, including Saturday the 14th, The Billion Dollar Hobo, The Octagon, The Incredible Shrinking Woman, The Last Ninja and Uncommon Valor.
Into adulthood, Brando continues his entertainment career, focusing mostly on music and less on acting. As a vocalist, keyboardist and songwriter, he has performed around the world and worked with a wide variety of artists, including The Motels and Christina Aguilera.
External links
Community content is available under
CC-BY-SA
unless otherwise noted.