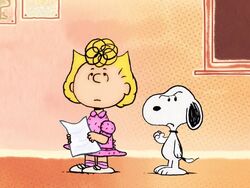 "La belle et la bête" (French for "Beauty and the Beast") is a short animated cartoon from the 2014 French TV series Peanuts, produced by Normaal animation and based on the comic strip Peanuts by Charles M. Schulz. It first aired on France 3 on November 9, 2014.
Plot
Sally gives a presentation to her class about the dog. She takes Snoopy with her to school as a visual aid. Some children in the class think that Snoopy is not a real dog. One child thinks that he is a moose in a dog suit. Snoopy takes offense at that and punches the child who said it.
Basis
This short is adapted from a series of strips from April and May 1978.