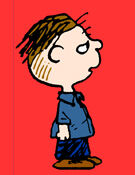 Maynard is a minor male character in the Peanuts comic strip by Charles M. Schulz. He first appeared on July 21, 1986. He tries to tutor Peppermint Patty in her studies.
History
When Peppermint Patty needs help in school, her father hires a tutor, named Maynard. His condescending attitude is apparent from the start when he asks Peppermint Patty, "Are you the dumb one?" He does not seem to like Peppermint Patty, and tells her, the teachers always gives her a D-, because they all hate her. This seems to annoy the girl. In turn, Maynard cannot stand Peppermint Patty's own condescending attitude, she keeps calling him "Captain Tutor" and he keeps having to remind her that his name is Maynard.
When Marcie comes over to meet Peppermint Patty's tutor, she reveals that Maynard is her cousin. Marcie then tells Peppermint Patty that the boy is getting paid to tutor her. Peppermint Patty gets so angry that she throws

Maynard out of the house, saying that she thought he was tutoring her "out of the goodness of his heart." However, Maynard justifies his recompense with a Biblical passage from the Gospel of Luke: "The laborer is worthy of his hire".
After having been fired as Peppermint Patty's tutor, Maynard never appeared in the strip again.
Trivia
In the strip from July 29, 1986 when Maynard quotes the Biblical passage, "The laborer is worthy of hire", he incorrectly says that it is Luke 10:4 instead of Luke 10:7.[1]
Maynard is one of the many Peanuts characters to appear in the game Snoopy's Street Fair, in which he owns a giant chess board.
Maynard was introduced into Snoopy's Town Tale in October 2020 as part of the Halloween event. He returned in May 2022 as part of the Everyday Superheroes event.
Maynard made an appearance on the 2021 Peanuts special Snoopy Presents: For Auld Lang Syne. He is voiced by Jackson Reid, who also does Thibault.
References