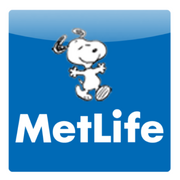 Metropolitan Life Insurance Company or MetLife, is an insurance company. It provides insurance, annuities, and employee benefit programs, with 90 million customers in over 60 countries. The company was founded on March 24, 1868.
In 1985, MetLife adopted Snoopy and other Peanuts characters as their spokestoons, having them appear in promotional materials, sales literature, premium items and commercials. For many years, Snoopy featured prominently on the MetLife blimp. In 2002, MetLife signed a contract allowing them to continue using Peanuts for advertising.
In 2006, MetLife signed an international agreement with Peanuts Worldwide. This agreement, in combination with their North American contract, gave MetLife exclusive worldwide rights in the financial services category to use the Peanuts characters.
The North American and international markets contracts were set to expire in 2014; but the characters were retained until 2016, when MetLife decided to retire the Peanuts characters as part of a general branding overhaul. MetLife was spinning off their consumer oriented services to another company to instead focus on providing products and services for other businesses, and it was apparently decided that the Peanuts license no longer served a purpose for their marketing.
Videos
See also