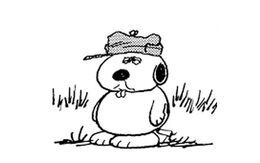 Olaf (originally called Ugly Olaf), is a minor animal character in the comic strip Peanuts by Charles M. Schulz. He is a brother of Snoopy.
History
Olaf made his first appearance on January 24, 1989, but was first mentioned on January 16 of that year as a candidate for an "ugly dog contest", which he goes on to win.

Many of Olaf's early appearances feature gags related to his ugliness. For example, Olaf says that he once belonged to a family whose car license plate read "Our other dog is a golden retriever".
Olaf's favorite book is Joe Bunny which his mother used to read to him.
After the introduction of another of Snoopy's brothers, Andy, to the comic strip he and Olaf would always appear together. The two brothers often get lost looking for Spike's home. In one strip they even go right past Spike's house without noticing it.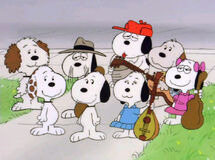 Olaf proves himself to have the most sharp-witted, wriest sense of humor out of all of Snoopy's brothers several times, but notably while a discussion about the afterlife takes place while Snoopy is having an operation. Andy asks if Olaf thinks fish go to heaven, and Olaf shoots back "not if they've been bad fish." His lovable, roly-poly appearance is the perfect contrast to his sharp wit.
The Peanuts animated television specials Snoopy's Reunion and I Want a Dog for Christmas, Charlie Brown feature appearances by Olaf. In Snoopy's Reunion, his "instrument" is a jar that he blows on to produce a bass line.