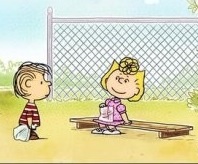 "Pâte d'amour"
(French for "peanut butter love") is a short animated cartoon from the 2014 French-Italian TV series
Peanuts
, produced by Normaal animation and based on the comic strip
Peanuts
by
Charles M. Schulz
. It first aired on France 3 on December 9, 2014. It is included in the episode "
Have a Nice Day, Linus
" that first aired on
Boomerang
in the United States on may 10, 2016.
Plot
It is lunchtime at school. Sally and Linus are sitting together on the same bench. Suddenly, a football hits Linus on the head. Linus goes to see the nurse. He tells that he does not have a headache, he has some peanut butter in his eye because Sally tired to kiss him better.
Community content is available under
CC-BY-SA
unless otherwise noted.