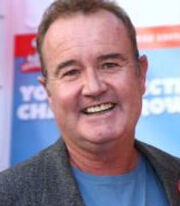 Peter Robbins (born August 10, 1956; Los Angeles, California) is a former child actor best known as the voice of Charlie Brown in the 1960s. He provided Charlie Brown's voice in several Peanuts television specials and films from 1965 to 1969.
Robbins provided Charlie Brown's voice in the specials A Charlie Brown Christmas and It's the Great Pumpkin, Charlie Brown, speaking the memorable line "I got a rock" in the trick-or-treating scenes. Robbins also voiced the character in the first Peanuts movie A Boy Named Charlie Brown.
Although Robbins was not in the Peanuts specials produced after 1969, his trademark scream of "AAUGGGHH!!", first used in A Boy Named Charlie Brown, continued to be used in the later specials for Charlie Brown and other characters too.
According to a 2006 broadcast by National Public Radio, Peter Robbins now manages real estate in Van Nuys, California. Robins visited the San Diego Comic-con in 2008 along with fellow former Peanuts voices and Lee Mendelson to speak to the crowd.
On January 20, 2013, Peter Robbins was charged for four felony counts of making a threat to cause death or great bodily injury and one felony count of stalking. On May 8, 2013, he was sentenced to a year in jail for threatening his former girlfriend and stalking her plastic surgeon. In 2015, he was arrested again for multiple probation violations and refusing to enter rehab. In 2019, he was released after serving 80% of his prison sentence.
Gallery
External links
Community content is available under
CC-BY-SA
unless otherwise noted.