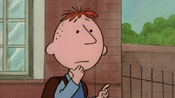 Pierre is a very minor male character who has never appeared in the Peanuts comic strip but who appears in the movie Bon Voyage, Charlie Brown (And Don't Come Back!!), in which he is voiced by Pascal de Barolet. He also makes a cameo appearance in What Have We Learned, Charlie Brown? He is a boy from France. Peppermint Patty and Marcie both have a crush on him.
The character has a warm personality and is welcoming to strangers, as his family has agreed to host Peppermint Patty and Marcie on their farm as part of the student exchange program. Although he speaks excellent English, Pierre commends Marcie on her French abilities, saying he is always grateful to foreigners who make an effort to learn his native tongue. Pierre is the antithesis of the film's antagonist, the Baron, who is antisocial to everyone, especially Americans.
Pierre has red hair. He wears a blue shirt, reddish brown pants and brown shoes.