Poochie is a minor female character from the Peanuts comic strip by Charles M. Schulz.
History
Poochie is the subject of a series of Sunday comic strips from December 1972 and January 1973. It is revealed in that series that she was a girl who lived in the neighborhood some years earlier but moved away and that Snoopy bears a grudge against her. She was first referred to by name on December 17, 1972 and made her only appearance in Peanuts in the Sunday strip from January 7, 1973, where she returns to see Snoopy.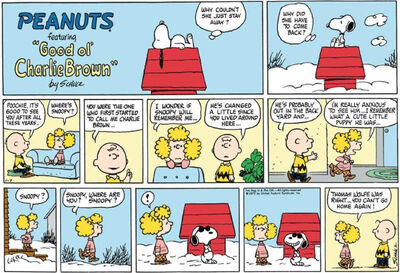 In the Sunday strip from December 31, 1972, Snoopy explains that he does not like Poochie because of an incident in his childhood. Poochie threw a stick for Snoopy to fetch but by the time that he brought it back to her she had left with an Old English Sheepdog.
Poochie returns to the neighborhood for a visit, much to Snoopy's disgust. In the strip from January 7, 1973, she is keen to see Snoopy again, although Charlie Brown warns her, "He's changed a little since you lived around here." When Poochie finally sees the beagle she is surprised and disappointed. Instead of the cute puppy that she remembers, she finds "Joe Cool" instead.
In the January 7, 1973 strip Charlie Brown says to Poochie, "You were the one who first started to call me Charlie Brown."
Trivia