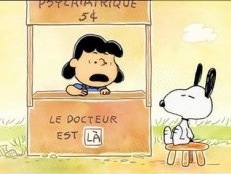 "Psycho pattes" (a pun on the French words psychopathe, meaning "psychopath", and pattes, meaning "paws") is a short animated film from the 2014 TV series Peanuts, produced by Normaal animation and based in the comic strip Peanuts by Charles M. Schulz. It first aired on France 3 on November 9, 2014.
Plot
Snoopy goes to Lucy's psychiatry booth for advice because he is afraid of the dark. At the end of the short, when Lucy asks for her five cent fare, Snoopy pays her with dog food.
Basis
The short is partially adapted from a series of strips from November 1968.