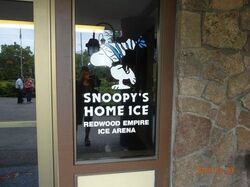 The Redwood Empire Ice Arena (commonly known as Snoopy's Home Ice) is a popular northern California indoor ice rink located in Santa Rosa, California. It opened on April 28, 1969, and was originally owned by Charles M. Schulz. The Peanuts characters, especially Snoopy, are the arena's mascot, and many of the things in the arena contain pictures of the Peanuts gang.
For skating, there is a public skating slot, a skating lesson slot, and a freestyle skating slot. The arena also has a few ice hockey slots, for instance, an adult hockey slot, a hockey lesson slot, and even an annual Snoopy's Senior World Hockey Tournament, which the arena hosts every year, where 64 teams from all over the world come to Santa Rosa for a week-long hockey tournament in the summer. The arena has about 500 permanent seats for hockey games, but this can be expanded to 3,000 seats for concerts and other events.
The Arena has the Warm Puppy Cafe where patrons can watch the ice activities from inside the lobby, through a window while having anything from a warm cup of cocoa, or hot snacks, to a complete meal.
Across the parking lot from the Arena is Snoopy's Gallery and Gift Shop where people can buy Peanuts-related products as well as figure skating and hockey equipment.
The Arena is located just down the street from the The Charles M. Schulz Museum and Research Center.
External links