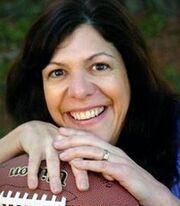 Robin Kohn is a former child actress who voiced Lucy van Pelt in the 1972 movie Snoopy, Come Home, the second feature-length movie to be based on the Peanuts comic strip.
She also voiced the same character in the Peanuts animated television specials, You're Not Elected, Charlie Brown (1972), There's No Time For Love, Charlie Brown (1973) and A Charlie Brown Thanksgiving (1973).
Lucy van Pelt would later be voiced by Robin Kohn's sister, Melanie Kohn.
As of 2014, Kohn resides in Mill Valley in Marin County, California, married with a daughter. She has worked as a lawyer and now owns her own residential real estate brokerage in Marin County.
Kohn also works part-time as a "standardized patient" with UCSF Medical School, playing a patient for medical students to practice their people skills. She is represented by Stars Agency in San Francisco, California and has taken improv classes.
External links
Community content is available under
CC-BY-SA
unless otherwise noted.