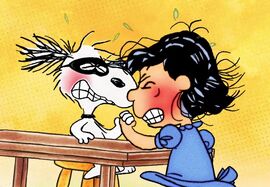 "Secret Weapon"
is a short animated cartoon from the 2014 French TV series
Peanuts
, produced by Normaal animation and based on the comic strip
Peanuts
by
Charles M. Schulz
.
Plot
Lucy thinks that she is the arm-wrestling champion of the neighborhood. Charlie Brown challenges Lucy to beat Snoopy as his "Masked Marvel" alter ego. During a really tough arm-wrestling competition, Snoopy kisses Lucy on the nose. Lucy declares that Snoopy made an unfair move by doing so. That makes Snoopy's victory invalid and means that Lucy is still the arm-wrestling champion. The short ends with Charlie Brown saying, "You let us down, 'Masked Marvel'"
Basis
The short adapts a series of strips that ran from February 9, 1967 to February 15, 1967. This segment was also adapted for the 1969 TV special, It Was a Short Summer, Charlie Brown.
Short
Community content is available under
CC-BY-SA
unless otherwise noted.