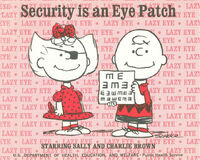 Security Is an Eye Patch is a booklet that was originally published by the U.S. Department of Health, Education and Welfare in 1968. It consists of reprints of Peanuts cartoons which first appeared in newspapers in November and December 1965 and January and March 1966.
The booklet begins with a strip in which Charlie Brown tests his sister, Sally to see if she has "lazy eye". Sally is told by her ophthalmologist that she has to wear an eye patch for six months. Sally faces some taunting for wearing the eye patch, she also has trouble finding it because Snoopy takes it to play pirates. However, she enjoys explaining to the other children why she has to wear it and is happy to hear that her eye condition is improving.
External links
Community content is available under
CC-BY-SA
unless otherwise noted.