Shermy is a supporting male character in the Peanuts comic strip by Charles M. Schulz. He was named after Sherman Plepler, a high-school friend of Schulz.[1] Shermy was one of Charlie Brown's closest friends during his tenure in the strip until he was superseded by Linus and Schroeder. He began as one of the strip's main characters, being one of only three child characters who appeared in Peanuts when it started publication in October 1950. However, his personality was never strongly developed and as more characters were introduced to the strip, he began fading into obscurity. By the time the comic strip was first adapted for television in 1965, he had regressed to making only minor appearances, and stopped appearing in the strip four years later.
History
Early years (1950-1953)
Shermy was one of the three earliest characters of the strip, appearing in the very first strip on October 2, 1950, even being the first character in the strip to have dialogue. However, he was not given a name until December 18, 1950.
He was a regular character through the first few years of the strip, appearing weekly from 1950-1951, despite his appearances fading towards the end of 1952. His appearances in 1953 were spread-out compared to '52, but they were still frequent.
Shermy also provided a few things to Charlie Brown during these three years, and even afterwards.
He often portrayed as Charlie Brown's go-to friend during tough times, especially athletics.
Was the "straight-man" to Charlie Brown.
Played the position of first base on Charlie Brown's baseball team on occasion.
Disappearance from Peanuts (1954-1959)
Shermy's disappearance from the strip was even faster and more complete than those of the other early characters, Patty and Violet, who were virtually gone by the 1970s. As stated above, around July 1952, his appearances were becoming noticeably rare because of the popularity of the newly introduced characters Lucy and Linus - who were introduced in March and September 1952 respectively.
After appearing frequently from 1950-1953, Shermy's disappearance from the strip entered its "first phase" in 1954. During this time, strips that he appeared in were becoming far less common and in the strips that he did appear in, he did not seem to have nearly as much dialogue from that point forward as before. The following points are the reasons why his disappearance began in 1954:
He made twenty appearances in 1954, compared to making thirty-six appearances in 1953.
He only appeared once from mid-June to January 1955, that being October 13, 1954, though he is mentioned twice during this time on June 23, 1954 and December 14, 1954.

Two characters were introduced during his absence: Supporting character, "Pig-Pen", and minor character Charlotte Braun.
"Pig-Pen" actually made three more appearances than Shermy did in 1954, making twenty-three appearances compared to Shermy's twenty.
Minor character Charlotte Braun, as stated above, was introduced on November 30, 1954, and her last appearance was on February 1, 1955. Looking at the facts above, this means that Shermy was gone the entire time that she was in the strip.

His last lines of the year were on May 3, 1954. He does not speak for over a year afterwards, finally having dialogue again on May 10, 1955.
This also began the trend of him not nearly having as much dialogue in the strip that he appeared in compared to 1950-1953.
His disappearance continued into 1955, making only thirteen appearances, with his first appearance coming on February 15. Unlike the previous year, he actually appears in the latter months, though it was only on occasion. During this time, he was seen as the straight-man to Charlie Brown's antics, and would only have one to two lines of dialogue in order for Charlie Brown to deliver the punch-line.
Despite nineteen appearances in 1956, Shermy only spoke once from August to February 1957, which brings back the point of him not speaking as much as did in the formative years of the strip. Also, around this time, he was strictly only seen with Charlie Brown for nearly the remainder of his time in the strip.
He made twelve appearances in 1957 and sixteen appearances in 1958. His amount of dialogue was getting shorter and shorter during these two years, which only led into the next year. By 1959, Shermy had virtually disappeared from the strip. 1959 was the first year in which he was seen in a single-digit amount of strips, only appearing five times for a total of ten panels. Though it was not publicized, at this point in the strip his role had been reduced to a supporting role. What is even more odd is that the world was still in the 1950s, the decade that the strip started.
Final years (1960-1969)
The mid-to-late 1950's showed that Shermy was well on his way out of the comic strip, though it wouldn´t be finalized at the end of the next decade.
1960 was the final year where he had more than 10 appearances, appearing 12 times. This year also showed the only time that he wasn't seen with Charlie Brown in the decade. On November 25th, he is seen talking to Lucy (one of the few times that they are even seen talking to each other) without Charlie Brown present. After this year, he makes no more than 6 appearances per year for the remainder of his time in the strip.
In an eight-year span from 1961-1968, he only made 33 appearances, most of which he is seen only in the background and never without any other character present.
By 1969, Shermy had pretty much disappeared from the comic strip. His last official appearance is considered to be June 15, 1969, although a character who looks remarkably similar to him appears in the strip from November 9, 1975 (it was never confirmed to be Shermy, though many people conclude that it is). Schulz said that he had no regrets about dropping Shermy from the cast, stating many years later that it had gotten to a point where he only used him in situations where he "needed a character with very little personality".
Shermy was mentioned a few times after his final appearance, but he is last mentioned by name in the strip from March 13, 1977, in which Charlie Brown and Lucy are discussing players on their baseball team. He is referred to as the team's designated hitter, although in his brief days as a Peanuts regular (which predated the creation of the DH position) he usually played first base.
Relationships
Charlie Brown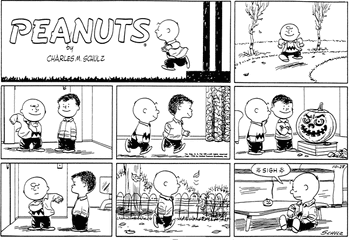 In the first strip of the series, Shermy claimed to have hated Charlie Brown. However, he soon became Charlie Brown's best friend (before Linus).
In earlier strips, Shermy is portrayed as being overbearing to Charlie Brown, as he carves a scarier jack-o-lantern than Charlie Brown (who has a pumpkin the size of an apple; October 28, 1956) and has a humongous train set while Charlie Brown has only a small train on February 1, 1954.
Another example is in July 1955, where Shermy is riding a humongous wagon, we see Charlie Brown sigh in disappointment as he has a small, rusty train. He also seems to have many toys and usually shows them off to Charlie Brown and Linus. In later strips, Shermy is often the bystander of jokes and sometimes consults Charlie Brown at the wall when he is feeling low, but this was on rare occasions in the early 1960's.
Snoopy
It was heavily implied that Snoopy was Shermy's dog in the early years. In the strip from September 29, 1951, Snoopy is running out of the rain, going up to a house where Shermy greets him, saying he is just in time for his bath. Snoopy also appears on leashes with Shermy. It is presumed that due to hanging around with him, the two seem to get along with each other well despite being seen with each other rarely after 1955.
Patty
In the early years, Shermy and Patty were presumed to be a couple, often holding hands and talking about their feelings for one another. Patty mainly seemed interested in Shermy for his collection of comic books. In the strip October 21, 1950, Shermy and Patty walk and hold hands with Snoopy walks along with them. Charlie Brown is holding a flower stand, and Shermy asks for one. Patty believes it is for her, though it is actually Snoopy who receives the flower, much to her dismay.
After the 1950's, the two were only seen in long-distance cameos during baseball games as Patty began appearing infrequently by 1960.
Violet Gray
Shermy also seemed to have a crush on Violet as well. In the strip from January 9, 1952, he claimed that Violet is "the most prettiest girl in the world". However, Charlie Brown rides on a sled with Snoopy running, yelling "MUSH! MUSH!" It is presumed Violet thought Shermy was lying, as in the next panel Shermy beats up Charlie Brown.
On July 2, 1957, the two are seen walking together smiling with Lucy and Charlie Brown looking on, with Lucy stating that she wouldn´t be surprised if the two got married someday, since one likes horses and the other doesn´t. On February 14, 1963, the two are seen giving each other valentines on Valentine's Day with Charlie Brown looking on in the background, depressed that no one gave him a valentine.
In another strip, Violet and Shermy are seen walking hand and hand. Lucy comments that their relationship is big enough to get through marriage, as Violet likes horses, and Shermy does not. However, in 1959, where Violet talks to Charlie Brown at the wall. She says that Shermy should be her friend, but he just is not.
Appearance
From the first strip on October 2, 1950, to April 19, 1953, Shermy sported thick black hair. However, the day before, he was shown to have gotten a buzz-cut that would turn into his permanent look for the rest of his time in the strip.
He would sometimes make references to the fact he seems doomed to have that look; he complains to Charlie Brown that he got a new hairstyle one weekend only to shortly come down with an illness that kept him from attending school. By the time the illness subsided, Shermy's hair had returned to its normal look, to which Shermy exclaims "I wasted a good haircut!" in not getting to model it at school on September 21, 1962.
Apparently, Schulz himself was not a big fan of this look, even though he never changed it, as he once commented that he "disliked" the way he drew Shermy's hair. and that he found it difficult to portray. This reason, along with Schulz believing that Shermy was "boring", might be the two main causes for Shermy's dropping from the strip in 1969.
In other media
Shermy has black hair and wears a long-sleeved, buttoned-down shirt with black shorts and brown tennis shoes. In the 1950's (in the summer, especially), he is shown wearing Hawaiian short-sleeved button shirts.
In animation, his shirt is usually colored green, however, in some depictions (such as The Charlie Brown and Snoopy Show, Is This Goodbye, Charlie Brown?, Why, Charlie Brown, Why?, and It's Spring Training, Charlie Brown), its color varies from light brown to blue. In The Peanuts Movie, Shermy has brown hair and wears a red short-sleeved shirt.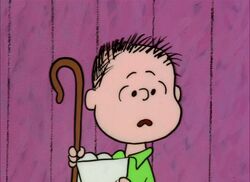 Shermy appears in multiple Peanuts television specials (although sightings of him become rare after the 1960s), beginning with A Charlie Brown Christmas in 1965, where he has one line of dialogue. Upon being cast as a shepherd in the gang's Christmas pageant, he laments, "Every Christmas it's the same: I always end up playing a shepherd." His appearances also include (sometimes with dialogue and sometimes without) Charlie Brown's All-Stars, It's the Great Pumpkin, Charlie Brown, You're in Love, Charlie Brown, It Was a Short Summer, Charlie Brown, You're Not Elected, Charlie Brown, Be My Valentine, Charlie Brown, It's Your First Kiss, Charlie Brown, Is This Goodbye, Charlie Brown?, Why, Charlie Brown, Why?, It's Spring Training, Charlie Brown, It Was My Best Birthday Ever, Charlie Brown, and I Want a Dog for Christmas, Charlie Brown with many of the latter being produced several years after he had already disappeared from the comic strip. Shermy is mentioned briefly in the musical You're a Good Man, Charlie Brown, in the song "The Doctor Is In", but does not appear or have a speaking part; and he also makes appearances in three feature films including A Boy Named Charlie Brown, as well as a cameo appearance in Snoopy Come Home. Shermy is also seen several times in The Charlie Brown and Snoopy Show and is even mentioned by name in Episode 13 from television (as seen on the "Go Snoopy Go!" DVD).
Shermy also appears in the 2008 series Peanuts Motion Comics in both "Ready to Pitch" and "Mother's Day" episodes.
Shermy returned to the animated specials in the 2011 Direct-to-DVD Happiness is a Warm Blanket, Charlie Brown, which includes a scene based on the very first Peanuts strip, where Shermy notes how much he hates Charlie Brown. He also plays a supporting role in the 2015 computer-animated film The Peanuts Movie, where his last name is revealed to be "Plepler". It is also shown in the same movie that he has a younger sister, though this is not considered canonical.
Shermy's TV and film appearances
Trivia
Shermy is confirmed to have appeared in, at least, 301 strips from 1950 to 1969.

It is unknown why Shermy's last appearance was so early on in the strip compared to Patty and Violet, yet continued to appear from time-to-time in TV specials well after 1969.

Along with many other Peanuts characters, Shermy appears in the video game Snoopy's Street Fair, in which, he owns a root beer booth.
Although in the comic strip Shermy and Charlie Brown are friends, interestingly enough Shermy is only seen hanging out with Charlie Brown in the TV specials in "It Was a Short Summer, Charlie Brown" in which he tells him about the canoe race, and when Snoopy and Charlie Brown leave the dock in a canoe, he remarks they made it four feet. Afterwards, back at the boys camp they talk about if they will win anything.
Gallery
References
External links
v - e -

d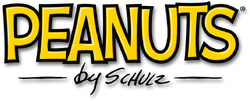 Media
Films: A Boy Named Charlie Brown | Snoopy, Come Home | Race for Your Life, Charlie Brown | Bon Voyage, Charlie Brown (And Don't Come Back!!) | The Peanuts Movie
Television: The Charlie Brown and Snoopy Show | This Is America, Charlie Brown | Peanuts | Snoopy in Space | The Snoopy Show
Specials: A Charlie Brown Christmas | Charlie Brown's All-Stars | It's the Great Pumpkin, Charlie Brown | You're in Love, Charlie Brown | He's Your Dog, Charlie Brown | It Was a Short Summer, Charlie Brown | Play It Again, Charlie Brown | You're Not Elected, Charlie Brown | There's No Time for Love, Charlie Brown | A Charlie Brown Thanksgiving | It's a Mystery, Charlie Brown | It's the Easter Beagle, Charlie Brown | Be My Valentine, Charlie Brown | You're a Good Sport, Charlie Brown | It's Arbor Day, Charlie Brown | It's Your First Kiss, Charlie Brown | What a Nightmare, Charlie Brown | You're the Greatest, Charlie Brown | She's a Good Skate, Charlie Brown | Life is a Circus, Charlie Brown | It's Magic, Charlie Brown | Someday You'll Find Her, Charlie Brown | A Charlie Brown Celebration | Is This Goodbye, Charlie Brown? | It's an Adventure, Charlie Brown | What Have We Learned, Charlie Brown? | It's Flashbeagle, Charlie Brown | Snoopy's Getting Married, Charlie Brown | You're a Good Man, Charlie Brown | Happy New Year, Charlie Brown! | Snoopy!!! The Musical | It's the Girl in the Red Truck, Charlie Brown | Why, Charlie Brown, Why? | Snoopy's Reunion | It's Spring Training, Charlie Brown | It's Christmastime Again, Charlie Brown | You're in the Super Bowl, Charlie Brown | It Was My Best Birthday Ever, Charlie Brown |It's the Pied Piper, Charlie Brown | A Charlie Brown Valentine | Charlie Brown's Christmas Tales | Lucy Must Be Traded, Charlie Brown | I Want a Dog for Christmas, Charlie Brown | He's a Bully, Charlie Brown | Happiness Is a Warm Blanket, Charlie Brown | Snoopy Presents: For Auld Lang Syne | Snoopy Presents: It's the Small Things, Charlie Brown | Snoopy Presents: To Mom (and Dad), With Love
Books: The Complete Peanuts | Other Peanuts reprint books
Music: The Peanuts Movie (soundtrack)