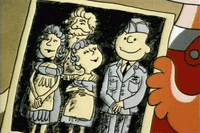 Silas Brown is Charlie and Sally Brown's paternal grandfather, Mr. Brown's father, and Mrs. Brown's father-in-law according to the 1980 animated feature film Bon Voyage, Charlie Brown (And Don't Come Back!!)
It is stated in the film that Silas Brown served in France as a soldier in the US Army during World War I. A photograph of Silas Brown is shown to Charlie Brown and Linus by Violette.
Although Charlie Brown has frequently referred to his grandfather in the Peanuts comic strip, the name Silas Brown was never used in the strip and therefore cannot be considered as canonical within the strip's continuity. Silas Brown is the only relative of Charlie Brown to have been shown on screen as an adult.
Relatives
Charlie Brown (grandson)
Sally Brown (granddaughter)
Mr. Brown (son)
Mrs. Brown (daughter-in-law)
Community content is available under
CC-BY-SA
unless otherwise noted.