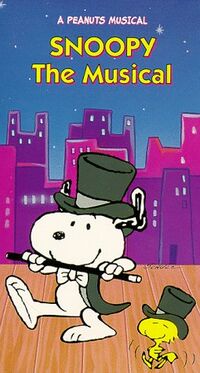 Snoopy!!! The Musical is the thirty-first animated television special based on Charles M. Schulz's comic strip Peanuts and the second one to be based on a stage musical, the animated version of You're a Good Man, Charlie Brown having first been broadcast two years earlier. Snoopy!!! The Musical first aired on CBS on January 29, 1988. It is based on the musical comedy of the same name that was first performed in 1975.
Unusually for a Peanuts television special, the audience can hear Snoopy's thoughts in the form of human speech and song, although the child characters in the show can not understand him. The only other program in which this is the case is the adaptation of You're a Good Man, Charlie Brown.
This is the first of two Peanuts specials not to have Charlie Brown's name in the title, the other being Snoopy's Reunion.
Contents of the show
Snoopy!!! The Musical centers around the characters, Snoopy, Woodstock, Charlie Brown, Sally Brown, Lucy van Pelt, Linus van Pelt and Peppermint Patty. Unlike in the comic strip, all five children are portrayed as attending the same school and being in the same class, taught by Miss Othmar (who is seen, albeit from the back). Other Peanuts characters, including Schroeder, Frieda, Marcie and Franklin appear briefly in non-speaking roles.
The show consists of a series of vignettes, without a unifying plot, each vignette containing a song. The featured songs are:
Cast
Goofs
Often in the special, Lucy and Peppermint Patty switch voices.
In the song "Poor Sweet Baby", when Charlie Brown fails to catch the ball, the ball rolls on the ground and disappears before it can roll out of the screen.
In the song "I Know Now," when Sally says, "If any," Peppermint Patty's mouth moves to that part, but she is not heard.
Commercials
External links
Peanuts Animated Features
TV Specials
A Charlie Brown Christmas • Charlie Brown's All-Stars • It's the Great Pumpkin, Charlie Brown • You're in Love, Charlie Brown • He's Your Dog, Charlie Brown • It Was a Short Summer, Charlie Brown • Play It Again, Charlie Brown • You're Not Elected, Charlie Brown • There's No Time for Love, Charlie Brown • A Charlie Brown Thanksgiving • It's a Mystery, Charlie Brown • It's the Easter Beagle, Charlie Brown • Be My Valentine, Charlie Brown • You're a Good Sport, Charlie Brown • It's Arbor Day, Charlie Brown • It's Your First Kiss, Charlie Brown • What a Nightmare, Charlie Brown • You're the Greatest, Charlie Brown • She's a Good Skate, Charlie Brown • Life Is a Circus, Charlie Brown • It's Magic, Charlie Brown • Someday You'll Find Her, Charlie Brown • A Charlie Brown Celebration • Is This Goodbye, Charlie Brown? • It's an Adventure, Charlie Brown • What Have We Learned, Charlie Brown? • It's Flashbeagle, Charlie Brown • Snoopy's Getting Married, Charlie Brown • You're a Good Man, Charlie Brown • Happy New Year, Charlie Brown! • It's the Girl in the Red Truck, Charlie Brown • Why, Charlie Brown, Why? • It's Spring Training, Charlie Brown • It's Christmastime Again, Charlie Brown • You're in the Super Bowl, Charlie Brown • It Was My Best Birthday Ever, Charlie Brown • It's the Pied Piper, Charlie Brown • A Charlie Brown Valentine • Charlie Brown's Christmas Tales • Lucy Must Be Traded, Charlie Brown • I Want a Dog for Christmas, Charlie Brown • He's a Bully, Charlie Brown • Happiness Is a Warm Blanket, Charlie Brown
Movies
A Boy Named Charlie Brown • Snoopy, Come Home • Race for Your Life, Charlie Brown • Bon Voyage, Charlie Brown (And Don't Come Back!!) • Snoopy!!! The Musical (TV special) • The Peanuts Movie
The Charlie Brown and Snoopy Show
"Snoopy's Cat Fight" • "Snoopy: Team Manager" • "Linus and Lucy" • "Lucy vs. the World" • "Linus' Security Blanket" • "Snoopy: Man's Best Friend" • "Snoopy the Psychiatrist" • "You Can't Win, Charlie Brown" • "The Lost Ballpark" • "Snoopy's Football Career" • "Chaos in the Classroom" • "It's That Team Spirit, Charlie Brown" • "Lucy Loves Schroeder" • "Snoopy and the Giant" • "Snoopy's Brother Spike" • "Snoopy's Robot" • "Peppermint Patty's School Days" • "Sally's Sweet Babboo"
This Is America, Charlie Brown
"The Mayflower Voyagers" • "The Birth of the Constitution" • "The Wright Brothers at Kitty Hawk" • "The NASA Space Station" • "The Building of the Transcontinental Railroad" • "The Great Inventors" • "The Smithsonian and the Presidency" • "The Music and Heroes of America"
Others
Peanuts (2014 TV series) • Peanuts Motion Comics