Snoopy's fiancée is a minor unseen dog character, in the Peanuts comic strip by Charles M. Schulz. She has never been given a name. Snoopy meets her and falls in love with her in a series of strips which originally ran between July 25 and August 30, 1977. Not much is known about her, except that she is a cheater who will go after any male dog that she sees.
History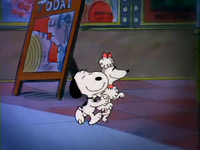 Snoopy first meets his fiancée when he is supposed to be guarding Peppermint Patty's house, but gets sidetracked when he sees two eyes from out of a bush. Snoopy follows the eyes, which turn out to belong to a beautiful female dog. Snoopy then gets engaged to her. On the day of the wedding, she does not show up. Lucy says she ran off with Snoopy's brother Spike. A week later, Snoopy gets a letter from Spike saying she also cheated on him, and ran off with a coyote. After that she is never heard of in the strip again.
However, she appears on screen in the TV special Snoopy's Getting Married, Charlie Brown, in which she is given the name Genevieve. Instead of running off with Spike, she runs off with a golden retriever.
Other fiancées
In a storyline which originally ran between January 25, 1965 and February 12, 1965, Snoopy falls in love with a female beagle while skating. Snoopy starts dating her, and they fall in-love. Snoopy decides to marry her. Charlie Brown does not like Snoopy deciding to marry a girl he hardly knows, although he tells Snoopy he will not stand in his way if he really loves her (Which makes Snoopy hug him). However, Snoopy is unable to marry the female beagle because her father will not let her marry an "obedience school drop out". Snoopy gets over his broken heart by eating.
It is possible that Snoopy encounters his former fiancée again, calling her the Beach-Beagle, in a storyline which began on August 5, 1965. Snoopy says that he used to go skating with the Beach-Beagle and that her father did not approve of their relationship. However, he only refers to her as his "old skating girlfriend" and does not mention having been engaged to her.
See also
Community content is available under
CC-BY-SA
unless otherwise noted.