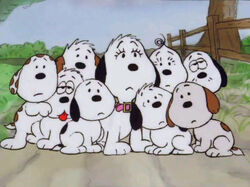 Snoopy's siblings are minor animal characters in the Peanuts comic strip by Charles M. Schulz.
On June 6, 1959, following the birth of Charlie Brown's younger sister Sally, Snoopy remarks that he has no brothers or sisters, and is an "only dog." This was later contradicted in the strip from May 5, 1965 in which Snoopy wonders what happened to his various brothers and sisters and Snoopy was later said to have been one of a litter of eight puppies.
One by one five out of Snoopy's seven siblings started to appear in the comic strip.
Most of the family seem to be in on Snoopy's World War I Flying Ace fantasy. Spike is often shown in the trenches as an infantry grunt and Belle appears as a Red Cross nurse for both brothers.
In the strip from June 18, 1989 Snoopy's father is shown receiving a Father's Day card. He comments that "all eight of them signed it". However, only six of his offspring (Snoopy, Spike, Belle, Marbles, Olaf and Andy) appeared in the strip. The other two siblings are Molly and Rover, TV-exclusive characters from Snoopy's Reunion. The special shows that the puppies were musically gifted from birth, playing instruments in a band until they were sold off, in Snoopy's case to Lila. When she is forced to return Snoopy to the Daisy Hill Puppy Farm, Snoopy resumes playing music, albeit by himself, until he is bought by Charlie Brown. The special ends with all eight siblings playing in a band.