"Snoopy the Psychiatrist" is the seventh episode of The Charlie Brown and Snoopy Show. It premiered on October 29, 1983.
Shorts
"Charlie Brown and Lucy"
"Charlie Brown and Lucy" is the longest short in the episode, and is the short the episode is named after.
Charlie Brown gets good advice from Lucy the psychiatrist and her replacement, Snoopy.
"Kite"
Charlie Brown loses his hat and his kite bursts into pieces like a balloon.
"The Dance"
Peppermint Patty invites Snoopy to a school dance.
"Thibault"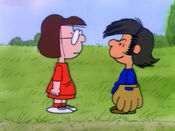 Peppermint Patty has recruited a boy named Thibault for her baseball team. He rudely refuses to return Charlie Brown's baseball glove, and angrily rejects the notion that girls can play baseball insulting Marcie. His attitude leads to Marcie slugging him a good one.
Certain lines from the series of strips from August 1973 on which the segment is partially based were cut out, e.g. Peppermint Patty threatening to shred Thibault for hating the idea of girls playing baseball and ironically ignoring the fact that she is one herself.
External links
Peanuts Animated Features
TV Specials
A Charlie Brown Christmas • Charlie Brown's All-Stars • It's the Great Pumpkin, Charlie Brown • You're in Love, Charlie Brown • He's Your Dog, Charlie Brown • It Was a Short Summer, Charlie Brown • Play It Again, Charlie Brown • You're Not Elected, Charlie Brown • There's No Time for Love, Charlie Brown • A Charlie Brown Thanksgiving • It's a Mystery, Charlie Brown • It's the Easter Beagle, Charlie Brown • Be My Valentine, Charlie Brown • You're a Good Sport, Charlie Brown • It's Arbor Day, Charlie Brown • It's Your First Kiss, Charlie Brown • What a Nightmare, Charlie Brown • You're the Greatest, Charlie Brown • She's a Good Skate, Charlie Brown • Life Is a Circus, Charlie Brown • It's Magic, Charlie Brown • Someday You'll Find Her, Charlie Brown • A Charlie Brown Celebration • Is This Goodbye, Charlie Brown? • It's an Adventure, Charlie Brown • What Have We Learned, Charlie Brown? • It's Flashbeagle, Charlie Brown • Snoopy's Getting Married, Charlie Brown • You're a Good Man, Charlie Brown • Happy New Year, Charlie Brown! • It's the Girl in the Red Truck, Charlie Brown • Why, Charlie Brown, Why? • It's Spring Training, Charlie Brown • It's Christmastime Again, Charlie Brown • You're in the Super Bowl, Charlie Brown • It Was My Best Birthday Ever, Charlie Brown • It's the Pied Piper, Charlie Brown • A Charlie Brown Valentine • Charlie Brown's Christmas Tales • Lucy Must Be Traded, Charlie Brown • I Want a Dog for Christmas, Charlie Brown • He's a Bully, Charlie Brown • Happiness Is a Warm Blanket, Charlie Brown
Movies
A Boy Named Charlie Brown • Snoopy, Come Home • Race for Your Life, Charlie Brown • Bon Voyage, Charlie Brown (And Don't Come Back!!) • Snoopy!!! The Musical (TV special) • The Peanuts Movie
The Charlie Brown and Snoopy Show
"Snoopy's Cat Fight" • "Snoopy: Team Manager" • "Linus and Lucy" • "Lucy vs. the World" • "Linus' Security Blanket" • "Snoopy: Man's Best Friend" • "Snoopy the Psychiatrist" • "You Can't Win, Charlie Brown" • "The Lost Ballpark" • "Snoopy's Football Career" • "Chaos in the Classroom" • "It's That Team Spirit, Charlie Brown" • "Lucy Loves Schroeder" • "Snoopy and the Giant" • "Snoopy's Brother Spike" • "Snoopy's Robot" • "Peppermint Patty's School Days" • "Sally's Sweet Babboo"
This Is America, Charlie Brown
"The Mayflower Voyagers" • "The Birth of the Constitution" • "The Wright Brothers at Kitty Hawk" • "The NASA Space Station" • "The Building of the Transcontinental Railroad" • "The Great Inventors" • "The Smithsonian and the Presidency" • "The Music and Heroes of America"
Others
Peanuts (2014 TV series) • Peanuts Motion Comics