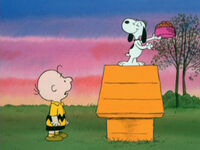 Suppertime is Snoopy's favorite time of day. Everyday he anxiously waits for 6:00pm, when Charlie Brown brings out his supper.
Snoopy claims to have a "stomach clock" which goes off, when its 6:00, although in one strip the beagle is horrified when he finds that he has missed suppertime because of daylight savings time. When Charlie Brown comes even a little late, Snoopy gets worried. Snoopy also has a "supper dance" which he often does when Charlie Brown brings out his supper. When Charlie Brown sees Snoopy's dance, he says "Why can't I have a normal dog like everybody else?" In the strip from April 2, 1988, Snoopy calls his supper dance an immature childhood thing to do. In another strip, Snoopy mentions to Andy and Olaf that he does not like doing his dance, but Charlie Brown just expects it.
Snoopy especially loves his supper dish. In the strip from January 13, 1962, Snoopy wants to run away, but stops when he realises he would miss his supper dish too much. It is even revealed that Snoopy has a catalog with a picture of every dish he has ever owned in it.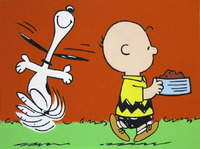 In the strip from September 13, 1959, Snoopy reluctantly declines to eat his supper because baby Sally, of whom he is very fond, is asleep on his back and he cannot move.
In the strip from May 17, 1981 Charlie Brown and Sally Brown are shown making fun of Snoopy's dancing and singing at suppertime, causing Snoopy to say, "I never realized they laughed at me behind my back."
Snoopy normally wants an earlier supper. He will often say that opening your mouth towards the front door makes suppertime come faster. However, when he tries that, he normally just ends up looking stupid.
In the stage musical You're a Good Man, Charlie Brown, and the TV special based on it, Snoopy sings a song called "Suppertime".
Community content is available under
CC-BY-SA
unless otherwise noted.