Image
The image is indeed from the TV version of Snoopy!!! The Musical but the cat in it is not identified as World War II or the cat next door or given any name at all.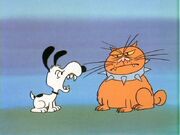 --
Simon Peter Hughes
(
talk
) 16:06, April 15, 2013 (UTC)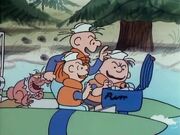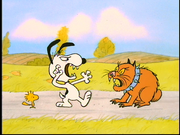 Turns out it was a Wikipedia contributor who claim that. What I notice that in Someday You'll Find Her, the cat who is chasing Charlie, Linus and Snoopy resembles Brutus. It has the same kind of behavior. Also, the cat in Snoopy!!! The Musical looked like fat Brutus, and was preparing to attack Snoopy. Because these cats have something in common, looking alike and personality, World War II would have looked like Brutus. --MetalLuigi64 (talk) 9:43, June 1, 2013 (UTC)
Community content is available under
CC-BY-SA
unless otherwise noted.