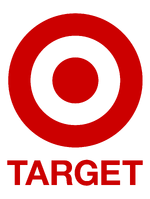 Target is the second largest chain of discount retailers in the United States, after Walmart. The headquarters of the Target Corporation are located in Minneapolis, Minnesota. The company was founded in 1902 by George Dayton of Clifton Springs, New York and was originally called Goodellow Dry Goods.
The standard size for Target stores is 95,000 to 135,000 square feet (8,800 to 12,500 m2). They carry hardlines, softlines (clothing),and groceries, mostly non-perishable items.
The mascot of the Target Corporation is Bullseye, a white Bull Terrier dog with red markings around its left eye that resemble the Target logo. Dogs that portray Bullseye in television commercials need to have non-toxic red makeup applied to their faces.
Videos
This Target commercial, made to tie in with the 2015 release of The Peanuts Movie, features the Peanuts characters "Pig-Pen", Charlie Brown, Linus, Lucy, Schroeder, Franklin and Snoopy. The characters Stewie and Brian from Family Guy and Bullseye the Target Corporation mascot also make appearances.
External links
Community content is available under
CC-BY-SA
unless otherwise noted.