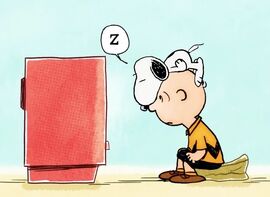 "Television"
is a short animated cartoon from the 2014 French TV series
Peanuts
, produced by Normaal animation and based on the comic strip
Peanuts
by
Charles M. Schulz
. It first aired on France 3 on November 9, 2014.
Plot
While Charlie Brown tries to watch TV, Snoopy bothers him by changing the channel.
Basis
The short adapts two Sunday strips. One from March 8, 1981 and another one from March 30, 1975
Short