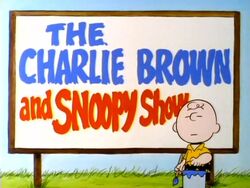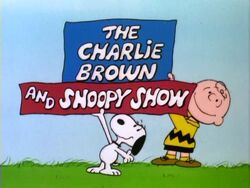 The Charlie Brown and Snoopy Show is an animated television series. It is based on Charles M. Schulz's Peanuts comic strip and most of the Peanuts characters appeared on the show.
It originally aired on CBS in the United States from 1983 to 1986, although mostly in repeat airings as only eighteen new episodes were ever made in 1983 and 1985. It was later reran in the 1990s on the Disney Channel and Nickelodeon (under the title "You're on Nickelodeon, Charlie Brown").
In Canada, it aired on YTV along with the Peanuts TV specials in the late-1990s. In the United Kingdom, it was originally shown on BBC2. It reran with the Peanuts TV specials on the UK version of the Boomerang network in 2002, but the title was shortened to Snoopy and it was advertised as such.
Voice actors
Episodes
Eighteen episodes were made, composed of several shorts a piece.
Season 1
Season 2
Theme song and opening titles
The first season's theme was a piano-based instrumental written and produced for this series. For the second season, a shortened version of the song "Let's Have a Party" from the album Flashbeagle was used.
The opening titles for the first season uses clips from the following: It's the Easter Beagle, Charlie Brown, It's the Great Pumpkin, Charlie Brown, Clean The Air, It Was a Short Summer, Charlie Brown, A Charlie Brown Thanksgiving, A Charlie Brown Celebration, It's an Adventure, Charlie Brown, Race for Your Life, Charlie Brown, Is This Goodbye, Charlie Brown?, and Someday You'll Find Her, Charlie Brown.
The opening titles for the second season is the same intro as It's Your 20th Television Anniversary, Charlie Brown.
Notes
External links
Peanuts Animated Features
TV Specials
A Charlie Brown Christmas • Charlie Brown's All-Stars • It's the Great Pumpkin, Charlie Brown • You're in Love, Charlie Brown • He's Your Dog, Charlie Brown • It Was a Short Summer, Charlie Brown • Play It Again, Charlie Brown • You're Not Elected, Charlie Brown • There's No Time for Love, Charlie Brown • A Charlie Brown Thanksgiving • It's a Mystery, Charlie Brown • It's the Easter Beagle, Charlie Brown • Be My Valentine, Charlie Brown • You're a Good Sport, Charlie Brown • It's Arbor Day, Charlie Brown • It's Your First Kiss, Charlie Brown • What a Nightmare, Charlie Brown • You're the Greatest, Charlie Brown • She's a Good Skate, Charlie Brown • Life Is a Circus, Charlie Brown • It's Magic, Charlie Brown • Someday You'll Find Her, Charlie Brown • A Charlie Brown Celebration • Is This Goodbye, Charlie Brown? • It's an Adventure, Charlie Brown • What Have We Learned, Charlie Brown? • It's Flashbeagle, Charlie Brown • Snoopy's Getting Married, Charlie Brown • You're a Good Man, Charlie Brown • Happy New Year, Charlie Brown! • It's the Girl in the Red Truck, Charlie Brown • Why, Charlie Brown, Why? • It's Spring Training, Charlie Brown • It's Christmastime Again, Charlie Brown • You're in the Super Bowl, Charlie Brown • It Was My Best Birthday Ever, Charlie Brown • It's the Pied Piper, Charlie Brown • A Charlie Brown Valentine • Charlie Brown's Christmas Tales • Lucy Must Be Traded, Charlie Brown • I Want a Dog for Christmas, Charlie Brown • He's a Bully, Charlie Brown • Happiness Is a Warm Blanket, Charlie Brown
Movies
A Boy Named Charlie Brown • Snoopy, Come Home • Race for Your Life, Charlie Brown • Bon Voyage, Charlie Brown (And Don't Come Back!!) • Snoopy!!! The Musical (TV special) • The Peanuts Movie
The Charlie Brown and Snoopy Show
"Snoopy's Cat Fight" • "Snoopy: Team Manager" • "Linus and Lucy" • "Lucy vs. the World" • "Linus' Security Blanket" • "Snoopy: Man's Best Friend" • "Snoopy the Psychiatrist" • "You Can't Win, Charlie Brown" • "The Lost Ballpark" • "Snoopy's Football Career" • "Chaos in the Classroom" • "It's That Team Spirit, Charlie Brown" • "Lucy Loves Schroeder" • "Snoopy and the Giant" • "Snoopy's Brother Spike" • "Snoopy's Robot" • "Peppermint Patty's School Days" • "Sally's Sweet Babboo"
This Is America, Charlie Brown
"The Mayflower Voyagers" • "The Birth of the Constitution" • "The Wright Brothers at Kitty Hawk" • "The NASA Space Station" • "The Building of the Transcontinental Railroad" • "The Great Inventors" • "The Smithsonian and the Presidency" • "The Music and Heroes of America"
Others
Peanuts (2014 TV series) • Peanuts Motion Comics