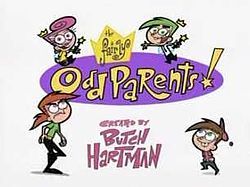 The Fairly OddParents is an American animated television series created by Butch Hartman about the adventures of Timmy Turner, who is granted fairy godparents named Cosmo and Wanda. The series started out as cartoon segments that ran from September 4, 1998 to March 23, 2001. It is produced by Frederator Studios for the cable network Nickelodeon, where it is currently the second most popular show, next to SpongeBob SquarePants. The television series was also distributed outside the United States by the Canadian animation company Nelvana. In 2009, Time magazine named the series one of the greatest television shows of all time.
References to Peanuts
In the episode "Fouled Balled", when Timmy's friend Chester pitches the ball at a world series game, the ball hits him and makes him spin around, causing his clothes, except his shorts, to come off. This is a running gag in Peanuts, that always happens to Charlie Brown when he is pitching.

In the TV movie Channel Chasers Timmy magically goes into the TV, and visits many TV shows. One of the shows he goes into, is called "Walnuts" which is a parody of Peanuts. It is mostly a parody of A Charlie Brown Christmas, since the other characters are doing the dance shown at the end, however, there is a Hanukkah party instead of a Christmas party. Also Timmy takes Charlie Brown's place, but is named "Chuckie Black". When Timmy accidentally breaks the Menorah, one of the friends says, "It's the Great Menorah, Chuckie Black", which is most likely a reference to It's the Great Pumpkin, Charlie Brown.
In the episode "Bad Heir Day" Crocker walks by two children one pulling a football away and the other one falling on his back. A dog lying on top of a purple doghouse is also seen.
Community content is available under
CC-BY-SA
unless otherwise noted.