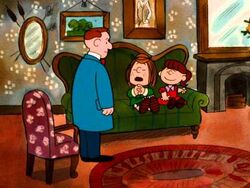 "The Great Inventors" is the sixth episode of This Is America, Charlie Brown. It first aired on CBS on March 10, 1989.
Plot
Introduction
Sally gives out a school report on less-significant inventions, including roller skating and pizza, alongside Snoopy.
Alexander Graham Bell
Linus talks about Alexander Graham Bell and his invention of the telephone.
Thomas Edison
Peppermint Patty talks about the invention of the phonograph by Thomas Edison, while Marcie talks about another Edison invention, the electric light bulb.
Henry Ford and the Duryea Brothers
Charlie Brown gives a report on the first successful automobiles invented by the Duryea Brothers and Henry Ford, as well as the first "horseless carriage" race, in which Lucy and Snoopy compete.
Voice cast
Frank Welker – Alexander Graham Bell/Thomas Edison
Alissa King – Marian Edison
Gregg Berger – Thomas Watson/John Kruesi
Julie Payne – Mrs. Holiday
Notes
External links
Community content is available under
CC-BY-SA
unless otherwise noted.