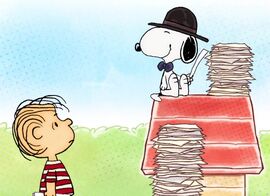 "The McGregor Case"
is a short animated cartoon from the 2014 French TV series
Peanuts
, produced by Normaal animation and based on the comic strip
Peanuts
by
Charles M. Schulz
.
Plot
Snoopy is an attorney. His client is a rabbit who has stolen a carrot from someone named McGregor. This is clearly a reference to the classic children's book The Tale of Peter Rabbit in which the title character steals vegetables from Mr. McGregor's garden.
Basis
The short adapts a series of strips that originally ran between August 1 and August 5, 1995.
Short
Community content is available under
CC-BY-SA
unless otherwise noted.